Sharing is caring!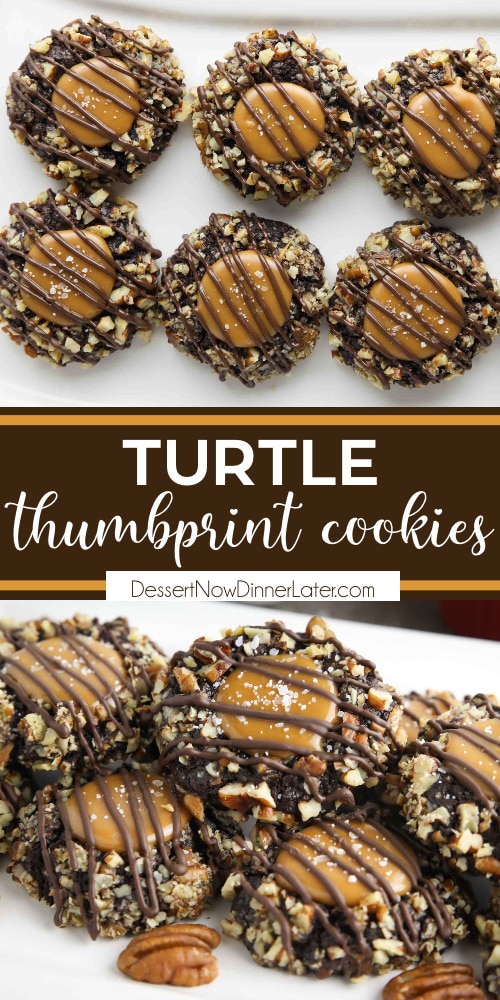 Turtle Thumbprint Cookies are made with a soft chocolate cookie, coated in pecans, filled with caramel, sprinkled with salt, and drizzled with chocolate. The perfect Christmas cookie!
On the second day of Christmas my true love gave to me: Two TURTLE THUMBPRINTS!
Ok, just kidding, but I love these cookies because they are pretty to look at and delicious to eat.
My husband got home from work and saw these on the counter and said that they looked super professional.
Let's just forget the fact that I am kind of a "professional." ANYONE can make these!
TURTLE THUMBPRINT COOKIES
The turtle flavor combination of chocolate, pecans, and caramel, in these turtle thumbprint cookies, is a winner!
The cookie is almost brownie-like, and with the gooey caramel center, hint of salt, and chocolate drizzle on top, you'll be tempted to eat more than just one.
Don't be intimidated by all the steps for this recipe. These turtle cookies may seem like a lot of work, but they're actually quite simple to make. Plus, the outcome is a beautiful turtle treat.
Let me show you just how easy it is to make these turtle thumbprint cookies!
HOW TO MAKE TURTLE COOKIES
Make the chocolate cookie dough and use a small #50 scoop or rounded Tablespoon to create balls. Round dough in palm of hands, if needed.
Whisk the egg white until frothy. Coat the chocolate cookie dough balls, first in the whisked egg white, then in the chopped pecans.
Place the coated dough balls on a prepared baking sheet a few inches apart.
Use a 1/2 teaspoon measure to make an indentation in the center of each dough ball before baking. Then again just after baking, while the cookies are still warm.
Melt caramel bits and chocolate chips separately in the microwave using short bursts. Be careful not to over-heat.
Scoop 1/2 teaspoonfuls of caramel into the center of each cookie.
Sprinkle the caramel immediately with sea salt or any other flaky salt.
Place the melted chocolate in a zip-top bag, make a small cut in one of the corners and drizzle the chocolate over the top of the cookies. Allow the caramel and chocolate to set and enjoy!
HOW TO FREEZE TURTLE COOKIES
To freeze these turtle cookies, you can either freeze the chocolate cookie dough, and then follow the rest of the steps later.
Or you can freeze the cookies after baking and decorating them. Allow the cookies to cool and set up completely. Then place parchment paper in-between each layer of cookies in a freezer bag.
Allow cookies to come to room temperature before consuming them.
Caramel Bits are made by Kraft and melt easily with a little bit of water. You can add additional water to make the caramel thinner if you like. I tried to keep mine thick.

If you can't find the caramel bits, you can use approximately 16 unwrapped caramel squares and 3 Tablespoons of heavy cream warmed in a saucepan, stirring constantly until melted.

Salt on top is optional, but a great addition. I definitely prefer these turtle cookies with the salt. You can use any flaky salt like: sea salt flakes, kosher salt, or Fleur de Sel.
Chocolate Chips or chocolate melts work great for the drizzle on top. If you find your chocolate chips are too thick, mix in 1/2 tsp of coconut oil or shortening to thin it out.
MORE CHRISTMAS TREATS TO MAKE
FOLLOW ME on PINTEREST, FACEBOOK, OR INSTAGRAM for more great recipes!
Ingredients
Cookie:
1 cup all-purpose flour
1/3 cup cocoa powder
1/4 tsp salt
1/2 cup (1 stick) butter, room temperature
2/3 cup granulated sugar
1 large/XL egg, SEPARATED
2 Tbsp milk
1 tsp vanilla extract
1 cup pecans, finely chopped
Caramel:
3/4 cup caramel bits
1 1/2 tsp water
1/2 tsp flaky sea salt, kosher salt, or Fleur de Sel
Chocolate:
1/4 cup semi-sweet chocolate chips
1/2 tsp coconut oil or shortening, optional for thinning
Instructions
Preheat oven to 350 degrees Fahrenheit. Line cookie sheet(s) with parchment paper or a silicone baking mat.
FOR THE COOKIE DOUGH: Combine flour, cocoa and salt in a bowl. Set aside.
In a stand mixer fitted with the paddle attachment, beat the butter and sugar until light and fluffy. Add the egg yolk, milk, and vanilla. Mix until incorporated. Add the flour mixture, and mix until just combined.
Whisk the egg white in a bowl until frothy. Place chopped pecans in another bowl. *Scoop balls of dough with a #50 scoop or rounded Tablespoon. Roll in palms of hands and place on a large plate.
Roll prepared dough balls first in the frothy egg white, then roll in the chopped pecans. Place on prepared baking sheets a couple inches apart.
Use a ½ tsp measuring spoon to make an indentation in the center of each dough ball.
Bake at 350˚F for 12-14 minutes or until just set. Gently re-press the indentations immediately after the cookies come out of the oven.
FOR THE CARAMEL: Microwave caramel bits with water in a bowl on HALF POWER for short 30-second bursts, stirring in-between each interval, until melted. Scoop ½ teaspoonfuls of melted caramel into the indented cookies. Immediately sprinkle with a pinch of flaky salt. Repeat with all cookies.
FOR THE CHOCOLATE: Place chocolate in a bowl and microwave on HALF POWER for short 30-second bursts, stirring in-between each interval, until melted. Mix in 1/2 tsp of coconut oil or shortening if needed, for thinning. Place melted chocolate in a plastic bag, make a small cut in one corner, and drizzle the chocolate over the caramel filled cookies. Allow cookies to rest until the chocolate and caramel sets.
Notes
If dough seems too sticky to handle, REFRIGERATE for 30-60 minutes, then scoop balls and continue as directed.
Store cookies covered or in an airtight container for 3-5 days.
Recommended Products
As an Amazon Associate and member of other affiliate programs, I earn from qualifying purchases.
Nutrition Information:
Yield: 20
Serving Size: 1 cookie
Amount Per Serving:
Calories: 139Total Fat: 6gSaturated Fat: 1gTrans Fat: 0gUnsaturated Fat: 4gCholesterol: 10mgSodium: 163mgCarbohydrates: 22gFiber: 1gSugar: 15gProtein: 2g
This data was provided and calculated by Nutritionix, and is an estimation only.
*Originally published 12/14/12. Updated 11/29/20.
Subscribe via Email

get new recipes free via email: