Sharing is caring!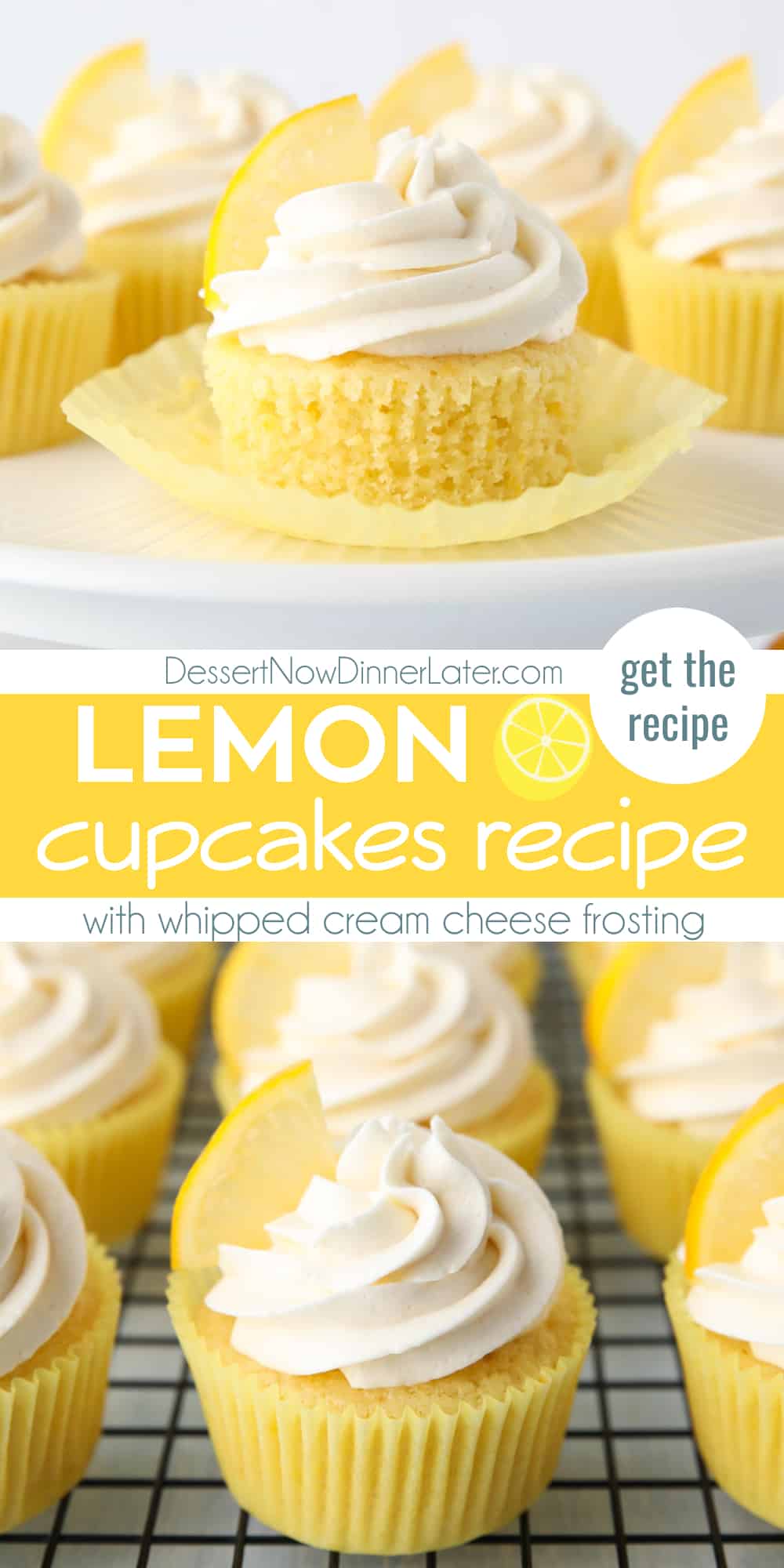 This lemon cupcakes recipe is light, fluffy, and moist. Easy to make from scratch with real lemons for that tangy-sweet citrus flavor. Lemon lovers will enjoy these simple homemade lemon cupcakes.
These lemon cupcakes are almost as easy to make as a boxed mix and are full of tangy lemon flavor — using 1/3 cup of real lemon juice and freshly grated lemon zest.
LEMON CUPCAKE TEST – BUTTER VS OIL
I tested this lemon cupcake recipe in two variations — one made with butter and and one made with oil. Then I handed the lemon cupcakes out to neighbors to be blind taste-tested.
Cupcake "A" was made with butter, and Cupcake "B" was made with oil. No one knew the difference until they told me which cupcake they preferred and why. Then I shared the differences.
The results were overwhelmingly for cupcake "B" — the cupcakes made with oil, and I agree!
The lemon cupcakes made with oil were lighter and fluffier, while still remaining moist.
There was a slight debate that the lemon cupcakes made with butter tasted more lemony, but the lemons may have been slightly more ripe than the ones used in the batch with oil. Regardless, everyone agreed both variations had a nice punchy lemon flavor.
I think most everyone identified the similarities between cupcake "B" and their favorite boxed mix. These will certainly be similar, but more moist and fresh tasting.
INGREDIENTS FOR LEMON CUPCAKES
This lemon cupcakes recipe is easy to whip up with standard baking ingredients. You will need:
All-purpose flour
Baking Powder
Salt
Oil (canola or vegetable)
Granulated sugar
Eggs
Lemon zest (or substitute with lemon extract)
Lemon juice
Buttermilk (can make with milk and lemon juice or vinegar)
Yellow food coloring, optional
HOW TO MAKE LEMON CUPCAKES FROM SCRATCH
First thing you'll want to do for these lemon cupcakes is to zest two lemons. I use a microplane zester (affiliate link). Keep in mind you just want to zest the yellow outer peel, not the white pith or it will be bitter. The peel holds a lot of oils and lemon flavor in it.
If you don't like zest, you can substitute 1/2 teaspoon lemon extract for every teaspoon of zest. Two lemons equals about 4 tsp of zest, so for this recipe you'd use 2 tsp of lemon extract.
Then cut the lemons in half and juice them. You should get 1/3 cup of lemon juice. Set these ingredients aside.
MIX THE DRY INGREDIENTS
In a bowl, whisk together the flour, baking soda and salt.
Be sure to measure the flour by stirring it first, to fluff it up. Then spoon it into the cup and level it with the back of a knife. This will help prevent dense cupcakes.
TIP: Sift the dry ingredients with a fine mesh sieve once or twice to further lighten the texture of the batter and cupcakes.
MIX THE WET INGREDIENTS
In another bowl, whisk together the oil and sugar.
Add the eggs one at a time, mixing thoroughly after each addition. Then add the lemon zest, lemon juice, and yellow food coloring, if desired.
ALTERNATE MIXING THE FLOUR MIXTURE AND BUTTERMILK*
Alternate adding the flour in three additions and the buttermilk in two additions — beginning and ending with the flour mixture. Do not over-mix. (Over-mixing can deflate the batter.)
TIP: If you don't have buttermilk, you can make it with 1/2 cup regular milk plus 1 tsp of lemon juice or white distilled vinegar. Stir the two together and let it rest for 5 minutes before using it, so that it curdles slightly.
Fill cupcake liners 2/3 full with batter. I use a #24 scoop (affiliate link).
Bake lemon cupcakes at 375˚F (or 400˚F for high altitude) for 15 minutes or until baked through. Transfer cupcakes to a wire rack to cool completely.
FROSTING FOR LEMON CUPCAKES
For a tart lemon cupcake recipe like this, I opted to use a light and fluffy whipped cream cheese frosting. It's a combination of whipped cream and cream cheese frosting.
If you like it extra tangy I'd go for a lemon cream cheese frosting. Or if you're feeling tropical, try a coconut cream cheese frosting.
Don't like cream cheese frosting? Keep it simple with vanilla frosting or strawberry buttercream. Lemon cupcakes go great with a lot of flavors!
MORE CUPCAKE RECIPES TO TRY
FOLLOW ME on PINTEREST, FACEBOOK, OR INSTAGRAM for more great recipes!
Ingredients
Cupcakes:
1 1/2 cups all-purpose flour (stir, spoon & level)
1 tsp baking powder
1/2 tsp salt
1/2 cup oil (canola/vegetable)
1 cup granulated sugar
2 large eggs, room temperature
1/3 cup fresh lemon juice (about 2 lemons)
4 tsp lemon zest (about 2 lemons)
yellow food coloring, optional
1/2 cup buttermilk*
Whipped Cream Cheese Frosting:
8oz brick cream cheese, COLD (full fat or Neufchatel)
1 1/2 cups powdered sugar
1/8 tsp salt
1 tsp vanilla extract
1 1/2 cups heavy whipping cream or heavy cream, COLD
Instructions
Preheat oven to 375 degrees Fahrenheit (or 400˚F for high altitude). Line cupcake pans with paper liners.
In a medium bowl, whisk together the flour, baking powder, and salt; set aside.
In a large bowl, whisk together the oil and sugar. Add eggs one at a time, whisking well after each addition. Add the lemon juice, lemon zest, and yellow food coloring, if desired. Mix until combined.
Add the flour in three additions, alternating with the buttermilk in two additions, beginning and ending with the flour. Scrape the bowl as necessary. Mix until just combined. Do not over-mix. Fill each cupcake liner ⅔ full (not ¾ or they will overflow).
Bake at 375˚F (or 400˚F for high altitude) for 15-20 minutes or until cake springs back when touched or a toothpick inserted into the middle comes out with just a few moist crumbs. Cool completely before frosting.
FOR THE FROSTING: In a stand mixer fitted with the paddle attachment, beat the cream cheese for 10-15 seconds. Scrape bowl. Then add the powdered sugar, salt, and vanilla and mix until combined. Scrape bowl. Switch to the whisk attachment and whip frosting on medium speed while slowly adding the heavy cream until light, fluffy, and thick. Scraping the bowl as needed. Pipe the frosting onto the cupcakes immediately. Refrigerate frosted cupcakes and any extra frosting. (Good for topping waffles, pancakes, oatmeal, etc.) *SEE NOTES*
Notes
Can substitute 4 tsp of lemon zest with 2 tsp of lemon extract.
*Make buttermilk with 1/2 cup milk + 1 tsp lemon juice or white distilled vinegar. Stir and let sit for 5 minutes before using.
Remove frosted cupcakes from fridge 20-30 minutes before serving to remove the chill and soften the cake — OR — Keep cupcakes in an airtight container at room temperature and just refrigerate the frosting in piping bag. Place the piping bag inside of a zip-top bag to keep fresh. Then pipe frosting onto cupcakes just before serving.
Recommended Products
As an Amazon Associate and member of other affiliate programs, I earn from qualifying purchases.
Nutrition Information:
Yield: 16
Serving Size: 1 cupcake
Amount Per Serving:
Calories: 339Total Fat: 21gSaturated Fat: 9gTrans Fat: 0gUnsaturated Fat: 11gCholesterol: 65mgSodium: 196mgCarbohydrates: 34gFiber: 0gSugar: 24gProtein: 4g
This data was provided and calculated by Nutritionix, and is an estimation only.
Subscribe via Email

get new recipes free via email: