Sharing is caring!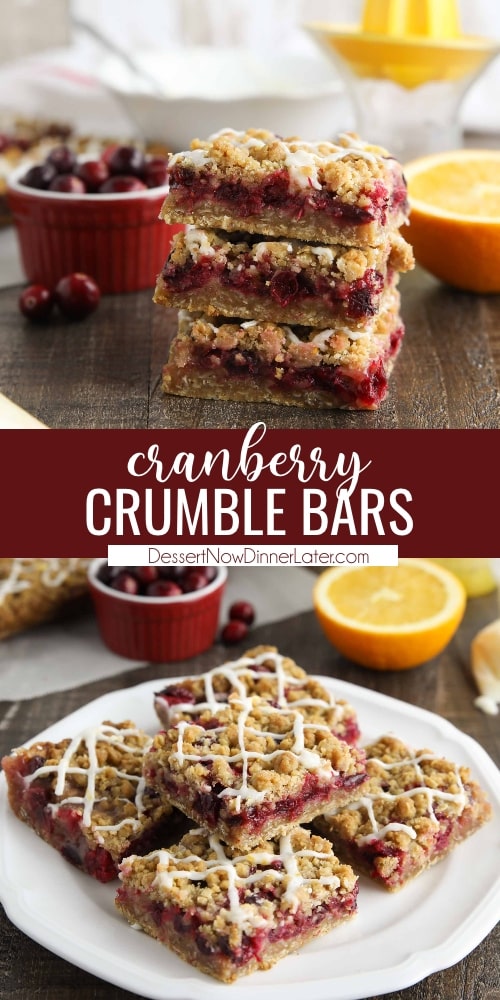 Cranberry Crumble Bars have a brown sugar and oatmeal crust that doubles as the crumb topping. There's fresh cranberries in the filling, and an orange glaze on top. These dessert bars are a great alternative to pie.
It may be the season of baking Christmas cookies, but these cranberry bars, have an oatmeal cookie-like crust and crumb topping and can be cut into small squares making them a great dessert for sharing.
WHAT CAN I DO WITH CRANBERRIES?
Cranberries are the underdog of the holiday season. Sure you can make them into my favorite cranberry raspberry sauce, but they are great in more than just a side dish. They are perfect for desserts!
Cranberries can used like any other berry. No need to cook them first, because they'll burst open while baking.
They might be tart and crunchy, but you can eat cranberries raw or blend them straight into smoothies too. They are low calorie, high fiber, high in vitamin C, and full of antioxidants.
I prefer cranberries sweetened with a little sugar and cooked into a jam or baked into cakes or desserts like these cranberry crumb bars.
Check out my list before the recipe card below for more cranberry recipes.
HOW LONG DO CRANBERRIES LAST?
Stock up on cranberries while they're in season now!
You can keep cranberries in the bag that you purchased them in, another zip-top bag, or airtight container in the refrigerator for three to four weeks. (The crisper drawer works great if cranberries are stored in a plastic bag.)
To freeze cranberries, simply place them in a freezer bag and toss them in the freezer to use as you need. They'll be good for about a year.
If you're using frozen cranberries for these cranberry crumble bars, there is no need to thaw them first.
If you want to use frozen cranberries in a cake or other batter, you'd want to dredge (coat) them in a little flour first.
HOW TO MAKE CRANBERRY CRUMBLE BARS
Now that you know how to use and store cranberries, let's make some cranberry oatmeal bars.
There are three components to this recipe:
Crust and Crumb Topping. It's made from one batter so it's super easy to divide up and you only dirty one dish. Yay!
Cranberry Filling. You'll add a little sugar for sweetness and a little cornstarch to help thicken it up, since we aren't cooking it separately first. A hint of orange juice and zest is used to add flavor.
Orange Icing. A powdered sugar glaze is made with orange zest and orange juice. It makes these bars pretty and adds an extra layer of sweetness to counterbalance the tart cranberries.
FOR THE CRANBERRY FILLING
To make the cranberry filling, combine cranberries (fresh or frozen), granulated sugar, cornstarch, orange zest and juice in a bowl. Set aside.
Don't be worried if the sugar doesn't dissolve with the cranberries like it would with other berries/fruit. It will dissolve as it bakes and the cranberries bloom.
FOR THE CRUST AND CRUMBLE TOPPING
To make the crust and crumb topping, combine butter, brown sugar, oats, flour, baking powder, salt, and cinnamon. Mix until incorporated and crumbs start to clump together. You can do this with a stand mixer and the paddle attachment or your hands.
Press 2/3 of the mixture onto the bottom of a 13×9-inch pan. Add the cranberry filling on top.
Then sprinkle the remaining crumb mixture over the cranberries.
NOTE: If you like a chunkier topping, you can press the mixture together with your hands or sprinkle it over the top and pat it gently.
Place pan in oven and bake at 350˚F for 45-50 minutes. You want a nice golden brown color on the crumb topping and the cranberry filling to bubble in the center of the dish, not just the sides.
ORANGE ICING
These cranberry crumble bars would be delicious as-is, but I love an icing drizzle for the look and taste.
To make the orange glaze, mix powdered sugar, orange zest and orange juice to the desired consistency.
I like to keep it thick so I can pipe it on top. Simply place the orange icing in a zip-top bag, make a small cut in one corner and squeeze it back and forth over the top of the cooled bars.
If you put the icing on while still hot, it will melt and absorb into the bars some.
When I make dessert bars, I like to use parchment paper to line the baking dish with the ends sticking out so I can lift the whole thing out and cut it into bars.
You can cut this dessert into three rows of five for 15 bars, or smaller if you like. They are perfect for dessert trays and feel as special as pie.
MORE CRANBERRY RECIPES
FOLLOW ME on PINTEREST, FACEBOOK, OR INSTAGRAM for more great recipes!
Ingredients
Crust and Crumb Topping:
1 cup (2 sticks) butter, room temperature
1 1/4 cup light brown sugar, packed
1 1/4 cup quick oats
2 cups all-purpose flour (stir, spoon, & level)
1 1/4 tsp baking powder
1/2 tsp salt
1/2 tsp ground cinnamon
Cranberry Filling:
4 cups fresh or frozen cranberries (approximately 1-12oz bag)
3/4 cup granulated sugar
1 Tbsp cornstarch
2 tsp orange zest (about 1 orange)
1 Tbsp orange juice
Orange Icing:
1 cup powdered sugar
1/2 tsp orange zest
1-2 Tbsp orange juice
Instructions
Preheat oven to 350 degrees Fahrenheit. Line a 13×9-inch baking dish with parchment paper leaving a 2-inch overhang on each side (for lifting the bars out) or lightly grease with cooking spray.
For the crust and crumb topping: In a large bowl, mix together the butter, brown sugar, oats, flour, baking powder, salt, and cinnamon. Mix until there are no butter chunks and the mixture is starting to clump together. (Can mix with a stand mixer and paddle attachment or with hands.) Set aside.
For the cranberry filling: Rinse and drain cranberries. In a large bowl add the cranberries, sugar, cornstarch, orange zest and juice. Stir to combine.
Press 2/3 of the crumble mixture on the bottom of the prepared pan. Evenly distribute the cranberry mixture over the crust. Sprinkle the remaining crumble over the cranberries. (Press crumbs together for larger clumps, or pat gently after sprinkling on top.)
Bake at 350˚F for 45-50 minutes or until the crust browns and the filling bubbles in the center, not just the sides. Cover with foil if crust is browning faster than the center bubbles. For best results, CHILL in the refrigerator for 1-2 hours before icing and serving.
For the orange icing: Whisk together the powdered sugar, orange zest, and orange juice to the desired consistency. May place icing in a zip-top bag, make a small cut in one corner and drizzle over the cool bars. Or simply drizzle the icing over the top with a spoon. Use parchment paper to lift bars out of pan. Cut and serve.
Notes
Store cranberry crumble bars covered (with or without icing) at room temperature up to 3 days or in the refrigerator up to 1 week.
To freeze: Arrange in even layers in a large freezer container between sheets of parchment. Freeze up to 3 months. Thaw overnight in the refrigerator. May bring bars to room temperature before consuming, if desired.
Note: Even after baking for 50 minutes in the oven, the bottom crust may appear moist and slightly under-baked. If this is undesirable to you, consider pre-baking the crust for 10 minutes before adding the cranberries and crumb topping. Then bake as written.
Recommended Products
As an Amazon Associate and member of other affiliate programs, I earn from qualifying purchases.
Nutrition Information:
Yield: 15
Serving Size: 1
Amount Per Serving:
Calories: 224Total Fat: 1gSaturated Fat: 0gTrans Fat: 0gUnsaturated Fat: 0gCholesterol: 0mgSodium: 139mgCarbohydrates: 53gFiber: 2gSugar: 34gProtein: 3g
This data was provided and calculated by Nutritionix, and is an estimation only.
Subscribe via Email

get new recipes free via email: