Sharing is caring!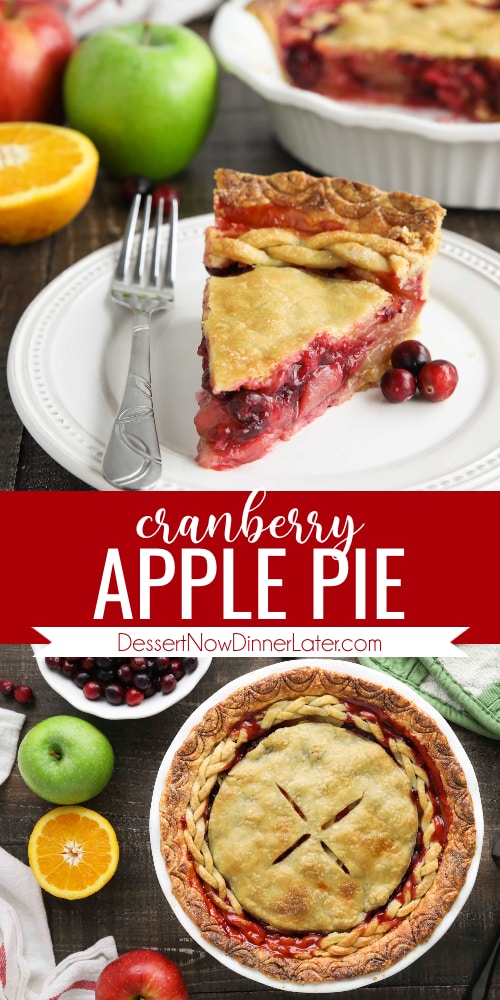 Cranberry Apple Pie takes traditional apple pie to a whole new level. The filling is made of fresh apples combined with tart cranberries, orange juice and zest, with a hint of spices. This Thanksgiving pie tastes a lot like wassail and will instantly become a new favorite!
This Thanksgiving pie recipe is a twist on a classic with a cranberry AND apple pie filling. This fruit pie is flavored with citrus and spice and tastes a lot like wassail — a mulled apple cider drink.
My family went CRAZY for this pie. They don't want any regular homemade apple pie recipe anymore, they want this apple and cranberry pie.
WHAT'S THE BEST APPLE TO MAKE A PIE WITH?
Any apple that holds up well in the oven will work for this apple cranberry pie. Depending on how tart or sweet you like your apple pie you might consider these varieties:
Honeycrisp
Granny Apple
Braeburn
Pink Lady (or Cripps Pink)
Jonathan or Jonagold Apples
I used Honeycrisp apples in this recipe. I wanted their sweetness to contrast the tart cranberries, and it was SO good.
DO YOU COOK APPLES BEFORE PUTTING THEM IN A PIE?
It's definitely easiest to let the apples cook inside the pie as it bakes. But I have found that my apple pies taste better, and the crust isn't under-baked at all, when I do some cooking beforehand. And not necessarily just cooking the apples.
Our favorite apple pie filling is cooked with apple juice to make it saucy and sweet before pouring it into the pie crust. The apples are softer this way from being cooked twice.
Another great way to make apple pie filling is to keep the apples raw, and to pour a caramelized syrup over them. I'll tell you just how to do this.
PROFESSIONAL APPLE PIE TIP!
In culinary school, we were taught to first, let the apples macerate (release their juices) with some sugar, lemon juice, and spices. Then strain the fruit and cook the liquid with butter to create a caramel-like syrup to pour over the raw apples.
If you like your apples with a little bite still left to them, this is the best way to get al dente apples with just the right amount of glaze.
This cranberry apple pie recipe uses that caramelized syrup method. Since the fruit releases most of their juices before going into the pie, it helps keep the apples from being too watery, and creates a flavorful sauce.
HOW TO MAKE THE CRANBERRY APPLE PIE FILLING
For this recipe, you'll combine fresh (or frozen) cranberries and sliced apples with orange juice, orange zest, brown sugar, granulated sugar, cornstarch, cinnamon, nutmeg, and salt. Let the apple cranberry pie filling sit in a bowl (macerate) for 30 minutes.
Next, strain the fruit and capture the liquid; about 1/2 cup. Simmer the liquid with 2 Tbsp of butter, stirring constantly, until it thickens to a syrupy texture. Allow the syrup to cool slightly.
TO ASSMBLE THE PIE
Prepare pie crust and divide it in half. Roll one half and fit it in the bottom of a 9-inch pie dish, cutting off any excess crust. Empty the cranberry apple pie filling into the crust. Then drizzle the caramelized syrup over the top of the fruit.
Roll and top the pie with a second layer of crust. Crimp the edges and decorate as desired. Be sure to cut slits for ventilation.
**If you want to make your pie like mine here's how I did it:
Use a spoon to create the scalloped indents around the crust's edge.
Cut out a circle for the middle of the pie by using a small plate as a template. Then cut slits for ventilation.
Braid strips of three to fill in the space between the center circle and outer crust. Pinch braids together, as needed, to create a uniform look.
TO BAKE THE PIE
PRO TIP: For pies like these, I like to brush the top with a whisked egg (egg wash) and then sprinkle it with granulated sugar. This adds color and flavor to the crust.
Be prepared to cover the pie with foil or use a pie crust shield the last 20-30 minutes of baking to keep the crust from browning too much.
I got distracted and didn't check my pie quite soon enough, so the crust got a little more brown than I prefer. Whoops! It still tasted good though.
NOTE: If the pie is pretty full, you may want to place a baking sheet on the rack below the pie to catch any filling that may bubble over.
I'm confident you'll love this apple cranberry pie recipe. It will be a beautiful and delicious addition to your Thanksgiving dessert table.
MORE THANKSGIVING PIE RECIPES
FOLLOW ME on PINTEREST, FACEBOOK, OR INSTAGRAM for more great recipes!
Ingredients
2 pie crusts (for top and bottom of pie)
4 cups apples, peeled, cored, and thinly sliced
2 cups cranberries (fresh or frozen)
zest of 1 orange (about 1 tsp)
2 Tbsp fresh orange juice (about 1/2 an orange)
1/2 cup light brown sugar, packed
1/2 cup granulated sugar
3 Tbsp cornstarch
1/2 tsp ground cinnamon
1/4 tsp nutmeg
1/8 tsp salt
2 Tbsp butter
For the Crust:
1 large egg, whisked (egg wash)
1 tsp (+) granulated sugar, for sprinkling
Instructions
Prepare pie crust if making from scratch. Refrigerate. (Keep cold.)
In a large bowl, combine the sliced apples, cranberries, orange zest, orange juice, brown sugar, white sugar, cornstarch, cinnamon, nutmeg, and salt. Stir well. Let macerate (release juices) at room temperature for 30 minutes.
Pour fruit filling into a strainer and capture the liquid, about 1/2 cup. In a saucepan, combine the liquid and 2 Tbsp of butter, Stir constantly over medium heat until the mixture thickens. Set sauce aside to cool slightly.
Preheat oven to 350 degrees Fahrenheit.
Remove pie crust from the fridge and roll pie crust into a large circle about 1/4-inch thin. Place into a 9-inch pie dish and cut off any excess crust. Place the cranberry apple pie filling inside the crust and pour the prepared sauce evenly over the fruit.
Roll the remaining pie crust into a large circle about 1/4-inch thin. Top pie with crust, cutting off any excess dough. Pinch the top and bottom crusts together and crimp the edges. Cut slits for ventilation.
Whisk an egg and brush it over the top crust. Sprinkle with granulated sugar.
Bake at 350˚F for 60-75 minutes until the crust is brown and the filling bubbles in the center. Cover pie with foil or a crust protector the last 20-30 minutes of baking to keep the crust from browning too much. EXTRA TIP: Place a baking sheet on the rack below the pie to catch any filling that may bubble over.
Notes
Allow pie to cool completely before slicing and serving.
Store pie covered at room temperature up to 5 days.
Recommended Products
As an Amazon Associate and member of other affiliate programs, I earn from qualifying purchases.
Nutrition Information:
Yield: 8
Serving Size: 1
Amount Per Serving:
Calories: 389Total Fat: 15gSaturated Fat: 6gTrans Fat: 0gUnsaturated Fat: 8gCholesterol: 31mgSodium: 251mgCarbohydrates: 63gFiber: 4gSugar: 35gProtein: 4g
This data was provided and calculated by Nutritionix, and is an estimation only.
Subscribe via Email

get new recipes free via email: